GUADALUPE COUNTY NARCOTICS TASK FORCE UNIT OF THE YEAR BY TEXAS NARCOTIC OFFICERS ASSOCIATION (TNOA)
09/05/2021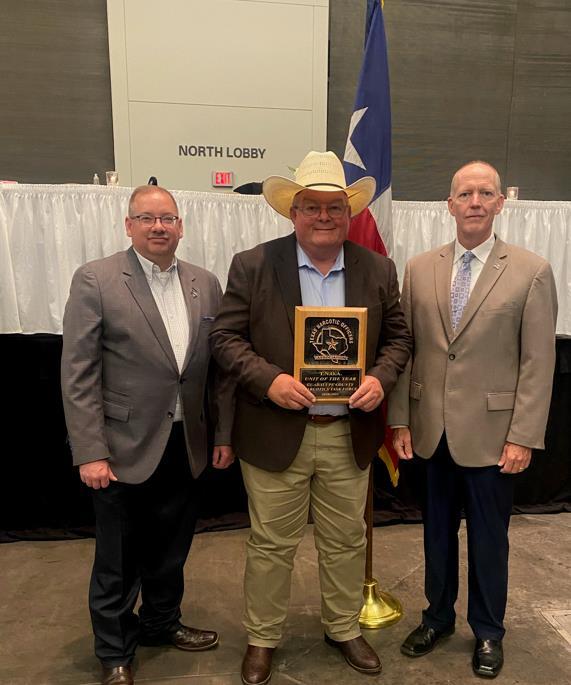 Guadalupe County Narcotics Task Force Unit Of the Year by Texas Narcotic Officers Association (TNOA)
On August 25, 2021, the Guadalupe County Narcotics Task Force was selected by Texas Narcotic Officers Association (TNOA) as Narcotics Unit of the Year for 2020-2021. The team was honored at the TNOA banquet held in Galveston, where they were presented with this award.
Comprised of officers from Guadalupe County Sheriff's Office, Seguin Police Department and Cibolo Police Department, this task force includes 13 team members with 192 years of combined experience. The task force also includes three K-9 officers as part of the team so there is never a delay in performing a canine search during a traffic stop or assisting with a search warrant. These officers and canines are invaluable to the team.
Following are the statistics for the years 2019 and 2020 for the Guadalupe County Narcotics Task Force. The numbers below speak for themselves and show the immense effort and teamwork this task force displays.

*2019 Street value does not include the substances listed as "other" in the 2020 chart. If other substances were included, the street value seized would be reflected as a much higher amount.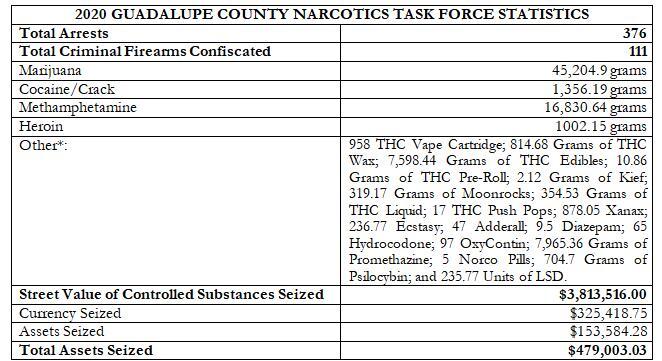 *In 2020 the task force started in office tracking of all narcotics seized to include but not limited to substances listed under "Other" above.
As evidenced by the preceding charts, the GCNTF continues to turn in even bigger numbers than the year before. It is important to note, not only have the arrests, seizures and drugs seized gone up but also the number of criminal guns seized has too. Confiscating criminal weapons while fighting the war on drugs is crucial to the safety of our community, Guadalupe County and the State of Texas as a whole. These numbers are unprecedented and do not go unrecognized. In addition to everything shown above, it should be noted that this unit successfully captured three capital murder suspects in 2020.
In a time when law enforcement seems to continually be under fire, it is a welcome relief that this task force receives praise consistently from their Sheriff, Chiefs and surrounding agencies, but most importantly from the citizens of Guadalupe County on a regular basis.