Arrest, Drugs, Firearms & Money
04/27/2020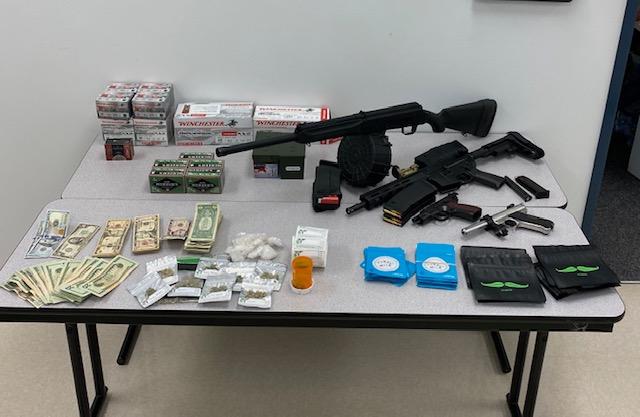 On 4/17/2020 The Guadalupe County Narcotics Unit conducted a Narcotics Investigation in unincorporated areas of the county, South of Seguin. During the course of this operation Narcotics Investigators attempted to traffic stop 30 YOA Ashton McKinney of Cibolo, Texas in the 22000 block of Highway 123 South. McKinney lead Narcotics Investigators on a short vehicle pursuit, and subsequently apprehended off FM 1681 in Wilson County.
McKinney was found to be in possession of .86 grams of methamphetamine and .51 grams of Methamphetamine. Narcotics Investigators believed McKinney was fleeing to afford himself the opportunity to discard narcotics. Narcotics Investigators subsequently conducted a search of the area, and recovered 40.75 grams of methamphetamine that had been discarded by McKinney.
McKinney was arrested from the Traffic stop and booked into the Guadalupe County Adult Detention Center on charges of Manufacture or Delivery of a controlled substance in Penalty Group 1 4-200 grams, and Tampering with or Fabricating Physical Evidence.
Narcotics Investigators developed information that McKinney provided a false address in Cibolo, and were able to obtain and execute a State Narcotics Search Warrant in the 1900 block of Milam St., in Seguin at a residence tied to McKinney. Investigators located an additional 139.64 grams of methamphetamine, 13.18 grams of Marijuana, 4 firearms, over 1,000 rounds of ammunition, and U.S. Currency. A total of $2,517.00 was seized between the two incidents. Narcotics Investigators also located marijuana packaging materials and medical marijuana prescription labels at McKinney's residence. Narcotics Investigators believe McKinney was repackaging marijuana to simulate that it was high demand medical grade marijuana.
The Guadalupe County Narcotics Unit is composed of Narcotics Investigators from the Sheriff's Office, Seguin PD Special Crimes Detectives, and Cibolo PD Narcotics Detectives.
Ashton McKinney