SCAM ALERT
05/07/2020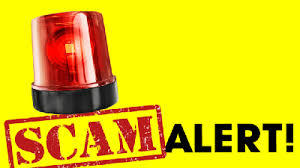 The Guadalupe County Sheriff's Office was recently made aware that multiple persons in the area have received phone calls or voicemails from someone claiming to be Sergeant Paul Easterling at the Guadalupe County Sheriff's Office. It was reported that the caller told them that this message was regarding an important message about an ongoing matter. When the complainants called the phone number back, one with an area code that was not "830", they were told that they owed money for failing to appear as a witness in court. The complainants were asked to bring money to the Sheriff's Office to keep the matter civil instead of criminal. Some of the callers did comply and actually brought money to the Sheriff's Office.
This incident is a failed scam attempt. Sergeant Paul Easterling is a Deputy Sheriff assigned to the Patrol Division, but he did not make these calls. Sergeant Easterling's duties as assigned to patrol do not include contacting anyone to pay a fee or fine. It is not standard procedure for any Law Enforcement agency to call you and ask for you to pay them for a fee, warrant or other fines. Another issue in the case was that the calls originated from a number that didn't start with an "830" area code. All official calls from the Guadalupe County Sheriff's Office have an "830" area code.
Although it did not happen in this case, we have investigated similar offenses in which the caller will ask for a green dot, amazon, iTunes or other gift card and ask for the numbers on the back of the card. Do not comply with this as once the numbers are transferred the money on the cards is untraceable and will not be retrievable. Bank wires, western union, money gram and other money transfer services have also been used to defraud those who were unaware they were being scammed.
Anyone employed by the Sheriff's Office can always be reached at 830-379-1224 or 830-303-5241. You can always call these numbers to verify the reason a Deputy or Investigator may be contacting you.